Dairy Challenge Academy
2015 Dairy Challenge Academy: April 9-11, 2015
Hosted by the NE Region in Syracuse, NY
More Information Coming Soon!
---
2014 Dairy Challenge Academy: April 3-5, 2014
Hosted by
Michigan State University, Ohio State University and Purdue University in Fort Wayne, IN
For our industry to prosper, we must cultivate tomorrow's dairy leaders. In this spirit, Dairy Challenge announces the new Academy to benefit more college students - future dairy owners, veterinarians, researchers and industry professionals
Starting in 2013, Dairy Challenge will impact even more students through Dairy Challenge Academy. The Academy will include sophomores, juniors and seniors in four-year dairy programs, along with students from community colleges and technical schools.
OBJECTIVES:
Offer dairy education and networking to more students. In 2014, we expect as many as 278 dairy students, 128 for the traditional contest and up to 150 additional with the Academy.
Further engage university and industry professionals in teaching contemporary dairy issues.
FORMAT:
The Dairy Challenge Academy runs in conjunction with the national Dairy Challenge contest, April 3-5, 2014, in Fort Wayne, Ind. About 300 students – both contest participants and academy participants - start together on Thursday, April 3. That evening, the two groups part: contest participants begin the competition while Academy students continue educational work. Academy students spend the next two days working with Academy Advisors to experience first-hand how to evaluate and consult on a dairy farm.
INVOLVEMENT:
The Academy offers tremendous hands-on involvement for sponsors as Academy Advisors. The agenda includes interactive seminars and structured table talk, plus an on-farm forum and real case study. Each student will visit two operating dairy farms with Academy Advisors – experts from the dairy industry – to learn how to evaluate dairy profitability and approach management challenges.
This involvement creates an ideal environment for learning – and for sponsors to demonstrate their expertise, innovations and career opportunities. Gain from hands-on time with students from across North America - future dairy professionals, producers and veterinarians. Evaluate their abilities first-hand and identify top recruits and future customers. Spotlight company advancements at Saturday's Innocation Fair. Become a top-level sponsor for unparalleled podium time during Industry Technology Seminars.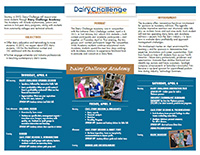 Learn how your business can be more involved with tomorrow's dairy leaders! [Click on the image]